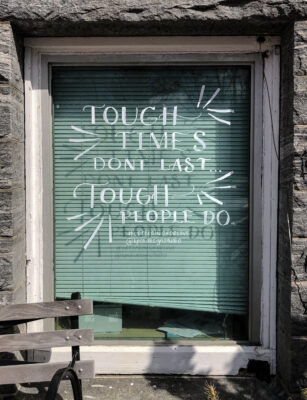 After being stuck at home due to the Covid-19 Pandemic for two years and four months, Jeff and I decided to travel to two of our favorite cities in Italy: Florence and Venice, to celebrate our 20th Wedding Anniversary. One million Americans have died from the terrible virus since January 2020. We were fully vaccinated and had two booster shots and over 85% of the Italian population was vaccinated. We packed N95 & KN95 masks, plenty of hand sanitizer, packs of wipes, courage, and a dash of moxie.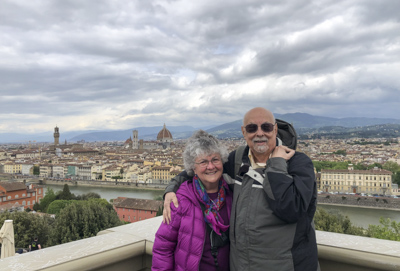 We flew out of JFK Airport on an overnight flight and arrived at the beautiful city of Florence, Italy on Friday April 28, 2022. For me, it was a great sigh of relief to be traveling again: gallivanting the world; flying far away from home; feeling liberated and being FREE!! Free as a bird soaring in the vast sky!!!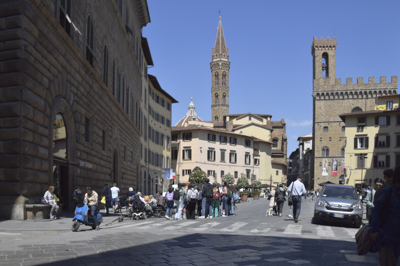 We arrived in Florence on a brilliant crisp sunny spring day and explored the neighborhood around our hotel, the Palazzo Bernini. Covid regulations across Italy required everyone to wear N95 masks indoors. Fortunately for us, recent laws in Italy had relaxed so we didn't have to wear our masks outdoors.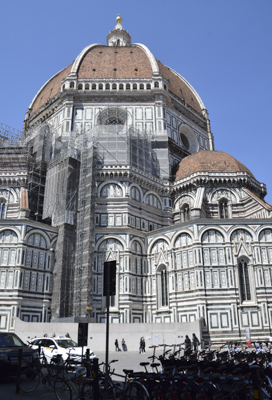 The hotel was located in the Centro Storico or historic center of the city so we could easily walk to all the important sights we wanted to visit. Florence is dominated by the gigantic Santa Maria del Fiore or "Cathedral of Florence," simply called "the Duomo." The church was completed about 1367 and the famous dome was built in 1436. There was always a long line of tourists at the entrance to the cathedral.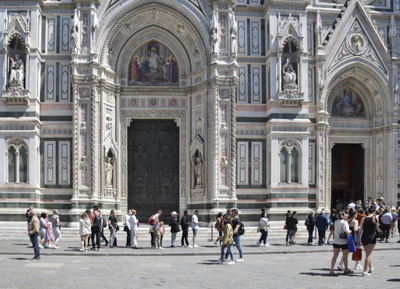 May 1st is a national holiday in Italy – Primo Maggio. It's the Italian Labor Day to celebrate worker's rights. Outside, at the Piazza Vecchio, there were crowds of people in regional costumes cheering for politicians giving speeches. Major museums and some stores were closed, but we had pre-reserved tickets at the Palazzo Strozzi to see a special exhibit of works by the great Renaissance artist, Donatello.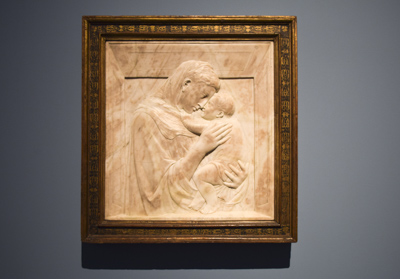 The Ponte Vecchio, or Old Bridge, is the most famous of the 12 bridges that cross the Arno River. It was built in 1218, and rebuilt in 1345 after major flood damage. During World War II, it was the only bridge that was not bombed by retreating Nazis. Today it's still lined with small shops selling gold jewelry.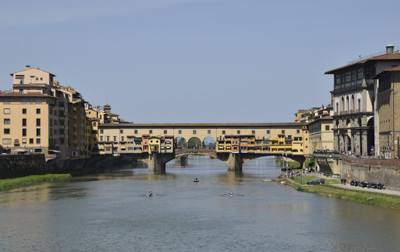 Jeff had read about the best panini sandwiches in Florence, so we were happy to discover that the most popular shop, All'antico Vinaio, was right around the corner from our hotel. There were three separate entrances for the popular sandwich shop on Via Neri and they all had very long lines of local people and tourists from morning until night when they closed. The fresh-made sandwiches were huge and tasty!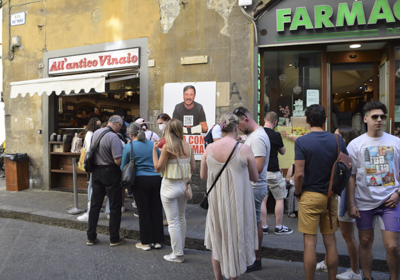 One of the smartest things we did was to pre-order reserved tickets online from home for the museums and important sights. We planned to visit one historic site or museum a day, so we could have leisurely days exploring or relaxing as we wanted. One day we had timed-tickets to see the Palazzo Vecchio aka "the old palace." Built as a fortification, the oldest part of the palazzo dates from the 13th century.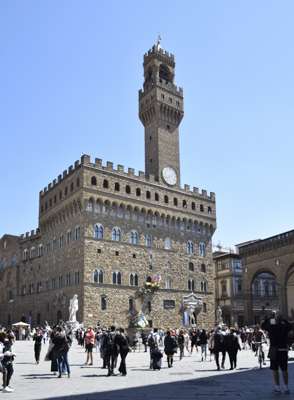 Grand Duke Cosimo de Medici moved into the palace in 1540 and it became the official seat of Medici wealth and power in Florence. Impressive statues decorate the piazza in front of the palace.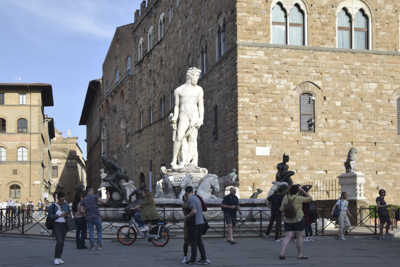 The interior of the Palazzo Vecchio is huge and magnificent. A lot of stairs, but definitely worth visiting.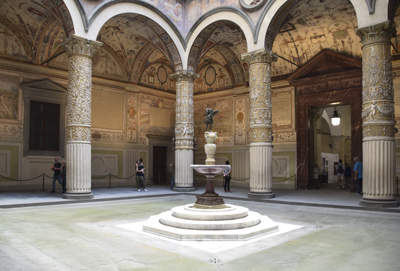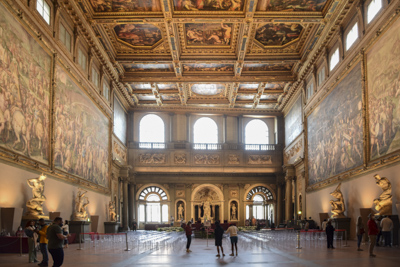 "The Duomo" was just a short walk from the hotel. There are three buildings which make up the cathedral complex: the Basilica di Santa Maria del Fiore, il Campanile (bell tower), and the Baptistery.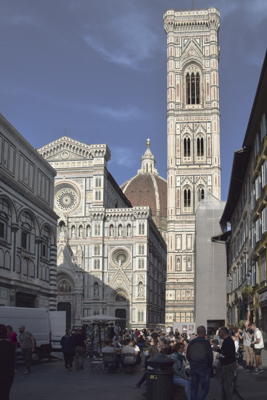 The Baptistery was consecrated in 1059 and is one of Florence's most important religious buildings. The octagonal building was dedicated to St. John the Baptist and served as the city's cathedral from the 11th century through the 14th century. There was some restoration work going on inside.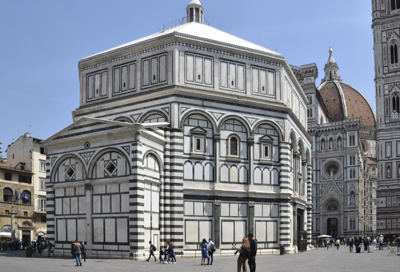 The sculptor, Lorenzo Ghiberti, won a competition to design a set of doors for the Baptistery in 1401. The ten bronze panels depict scenes from the New Testament. The doors, which Michelangelo called The Gates of Paradise, are recognized as a major masterpiece of the Early Renaissance.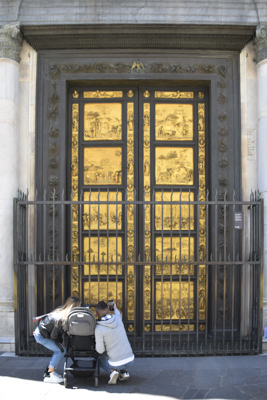 One day, we found a quiet outdoor restaurant for lunch away from the crowded city center. We enjoyed salad and pizza near Piazza San Marco then continued to Ospedale degli Innocenti. During the 15th century, Filippo Brunelleschi was commissioned by the Wool Guild to design and build the hospital. The orphanage provided care for infants and children for more than five hundred years. On the left side of the loggia there was a window which held a rotating platform onto which unwanted babies were placed and taken safely indoors without mothers having to reveal themselves. This system was used until the hospital closed in 1875. Today the Ospedale is an art museum.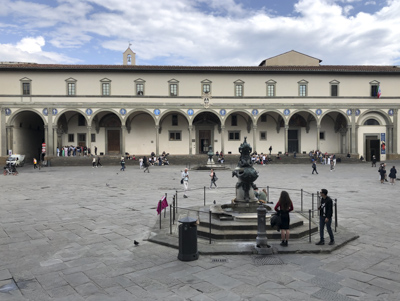 People today with the surname of Innocenti are said to be descendants of those orphaned children.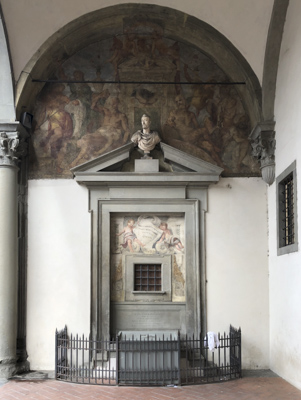 Later we had a delicious traditional Tuscan dinner at a wonderful little restaurant called Ristorante Il Caminetto. I had ribollita soup and tortellini and Jeff had veal with thin slices of potato with sage. Yum!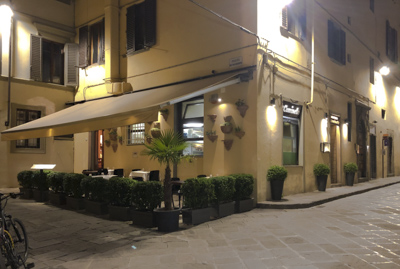 Early Wednesday morning we felt our room shaking! The lamps and vases on tabletops vibrated for a few minutes. Troubling because the hotel was a solid ancient stone building. We learned later that an earthquake had occurred about 25 miles outside of Florence. The local people we spoke to were very upset because they said it was a rare occurrence in this part of Italy. There were no aftershocks. After breakfast, we walked over to the famous Uffizi Gallery to see their impressive art collection.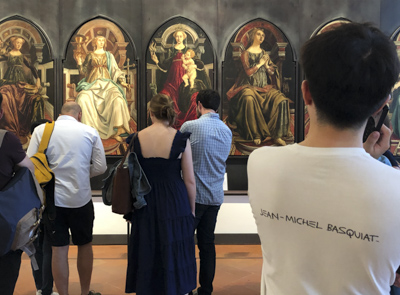 The Uffizi is a wonderful place to see works of the important painters and sculptors: Botticelli, Giotto, Da Vinci, Michelangelo, Raphael, etc. Later, we stopped to rest and have a snack at the Uffizi's new outdoor roof-top cafe. Very civilized. After we left the museum, we walked to the Mercato Centrale – the original Central Market. Fresh fruits, vegetables, fish, meats, mushrooms, etc. are located on the first floor and a large multi-ethnic food court takes up the second floor. It's a lively place for locals to do their shopping.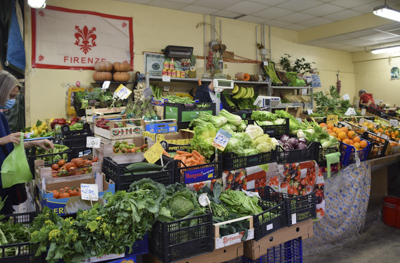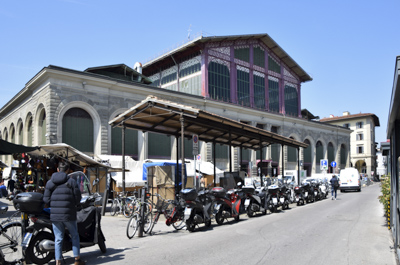 The second part of the special Donatello exhibit was in the National Museum of the Bargello. The museum is housed in one of the oldest buildings in Florence dating to 1255. Among the treasures in the exhibit were three Davids: an early marble sculpture (1409) and a later (1440) bronze David both created by Donatello and another bronze statue made by Verrocchio who was Donatello's teacher and mentor. Leonardo Da Vinci was supposed to be the young model for Verrocchio's David in 1475.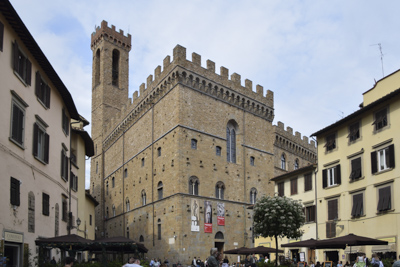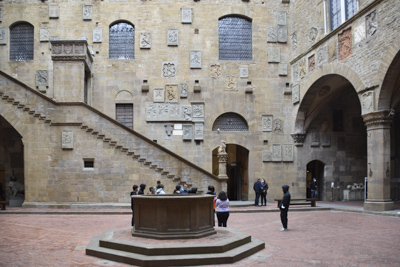 Verrocchio's David is on the left and Donatello's bronze David is on the right: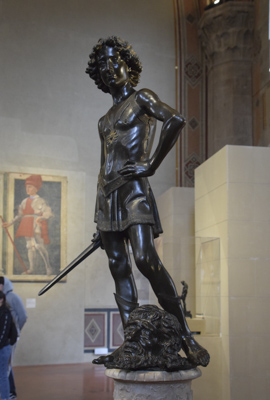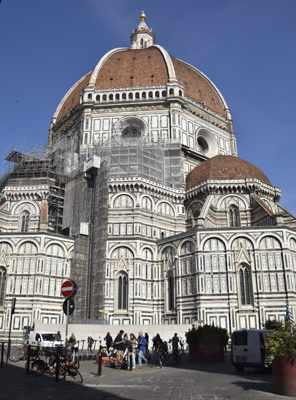 There were always long lines to get into The Basilica di Santa Maria del Fiore, but again we had reserved tickets to see the Santa Reparata Crypt so we entered, literally, by a side door quickly and easily.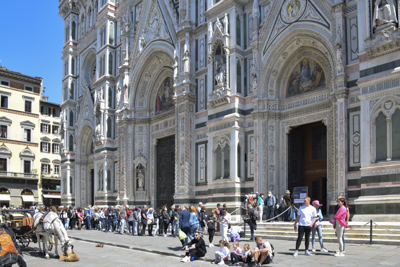 Santa Reparata was the name of the original cathedral that stood on that site. The church was named for a 3rd century Catholic martyr. The crypt and the early foundations under the cathedral were very interesting. The interior of the Basilica is quite plain, but, under Brunelleschi's dome is magnificent.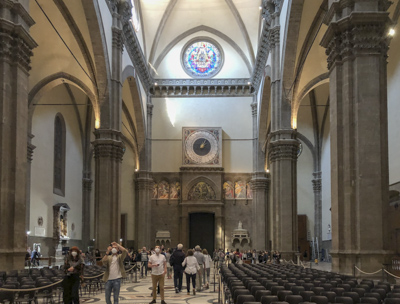 The Duomo dominates the city of Florence and is visible at the end of many streets from everywhere.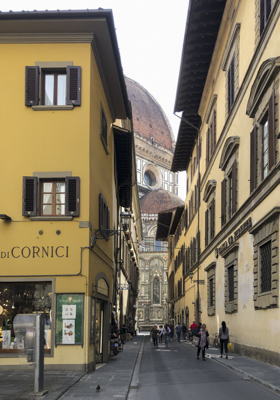 We also visited the Museo dell'Opera del Duomo to see the treasures and original works of art created for the basilica. There was a special exhibit of three Pietas sculpted by Michelangelo.
His Bandini Pieta, on the left, was made between 1547 and 1555 when Michelangelo was in his 70s. It is believed that he sculpted his own image on the top hooded figure. The sculpture on the right is Michelangelo's famous St. Peter's Pieta from 1498-1499 completed when he was just 24 years old.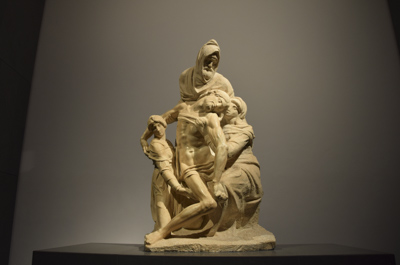 One rainy afternoon, we went to a restaurant that offered small portions of Bistecca Fiorentina. The famous dish is usually served in 2+ pound portions and that's simply too much food for our senior appetites. We sat outside under umbrellas at Ristorante Natalino and shared a perfectly cooked steak.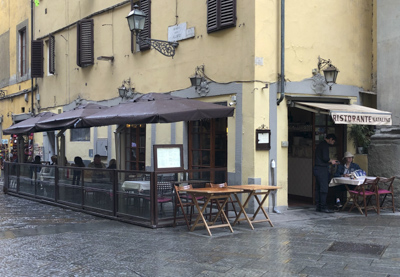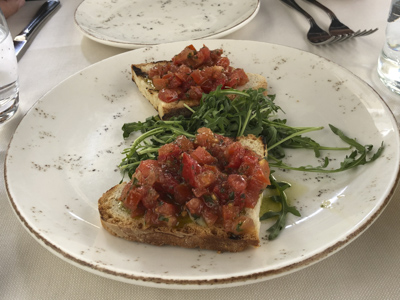 One other day, we visited the Basilica di Santa Croce which was completed in 1385. The tombs of Michelangelo, Machiavelli, Rossini, Galileo, Dante, and others, are located inside. There are also three lovely cloisters open to the public. Beyond a side door of the basilica is the Pazzi Chapel, which was designed by Brunelleschi and considered a masterpiece of Renaissance architecture.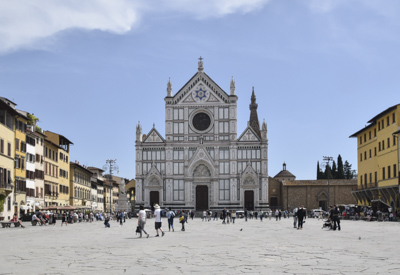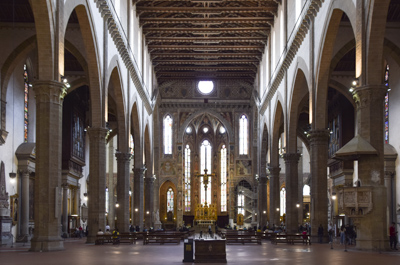 On a drizzly Friday afternoon, we walked across one of the bridges over the Arno River to Oltrarno – literally "the other side of the Arno." This was historically where the craftspeople and workers lived. Today, there are small shops and galleries away from the touristy city-center. When we turned off the main street, we passed a shop where two young women were making custom leather shoes by hand.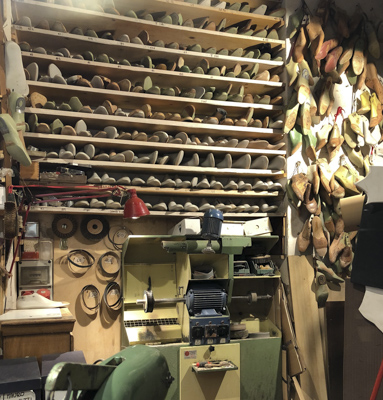 Further down the street was the shop of Simone Fiordelisi who is a craftsman of mosaic firoentino or the ancient art of marble inlay. He works with small pieces of stone. First carving a design in a larger piece of stone, then setting tiny pieces of colored stone into the carved design. Examples of his artistry decorated the walls around his workbench. His website is: www.tavolidimarmo.it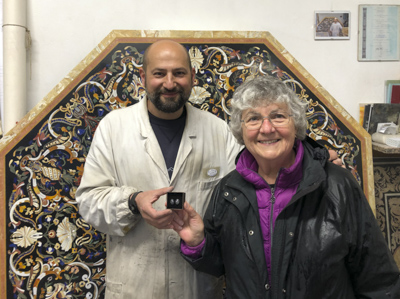 We watched him as he worked on a delicate piece. He showed us a pair of earrings with tiny purple stone violets embedded in small grey oval stones. They were beautiful, so we bought them to support a very talented craftsman and to remind us of our wonderful week in beautiful Florence.
As we walked through narrow alleyways of Oltrarno, we looked into several craftsmen's shops. There were metal workers, and a handmade paper shop, and a man carving wood to make an intricate frame.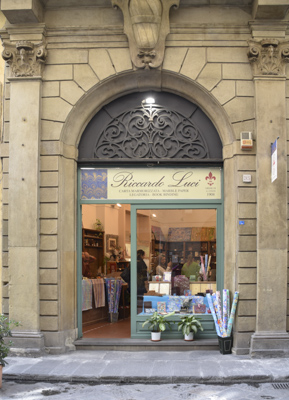 A light summer rain kept the number of tourists low and it was fun to walk the narrow streets in the rain!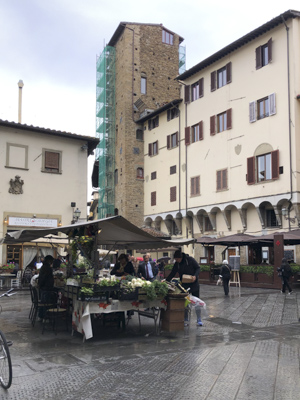 We had reserved timed-tickets to get into the Accademia Gallery one afternoon and we were surprised that we had to wait in a "ticket-holders" line. But, the line for people without reservations was much longer. Of course, it was worth the wait to walk into the long room lined with Michelangelo's unfinished stone sculptures and look down to see his majestic statue of David. Forever incredible and impressive!!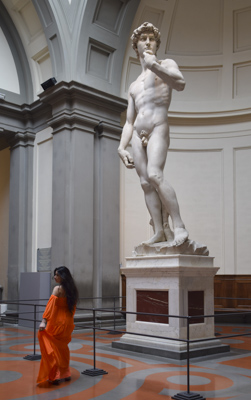 Walking around Florence, I noticed many little sealed niches embedded in the thick stone walls of old buildings. The buchette del vino were created during the outbreak of bubonic plague in the 1630s as a safe way to distribute wine. There are supposed to be more that 150 of these little "wine windows." Ironic to think of them as an ancient solution to our modern-day pandemic 'curb-side delivery.'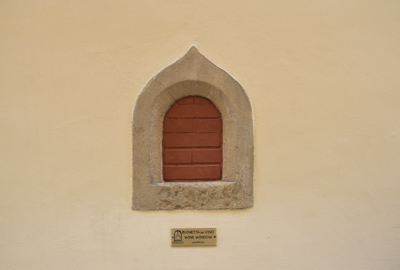 The week passed quickly and we returned to one of our favorite restaurants, Trattoria del Bargello, for our final delicious dinner in Florence. Below are a few extra photos of this wonderful city.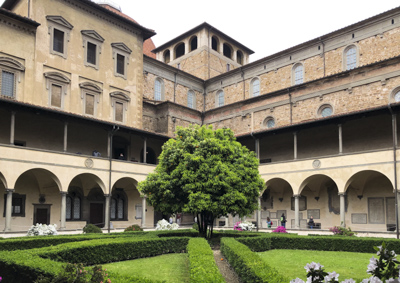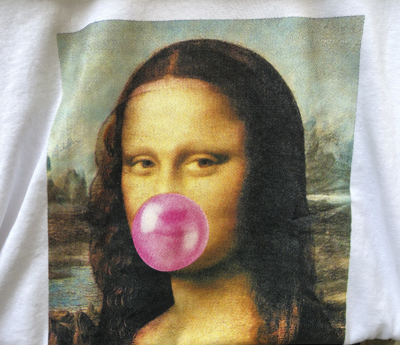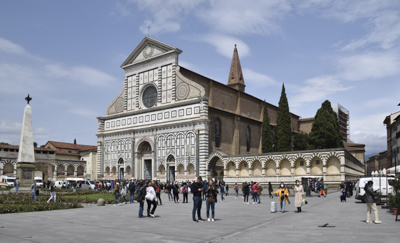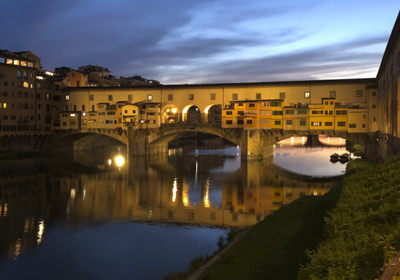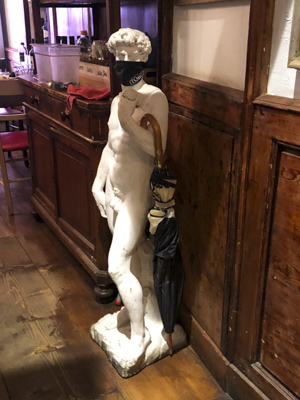 Sunday May 8th, Bernini Palace Hotel arranged a taxi to take us to the Santa Maria Novella train station. It was a short fun ride through the quiet streets of the city. The car drove through familiar walkways and passed monuments. It was a perfect postscript to a delightful week in beautiful Renaissance Florence.
Jeff had made reservations for Italy's high-speed train from Florence to Venice on the Frecciarossa, Italian for "red arrow." After a short and interesting wait at the station, we boarded the modern train. We had very comfortable seats in a spacious car with only a few other passengers. Masks were required in public transportation by Italian law, so I felt reasonably safe during our two hour trip.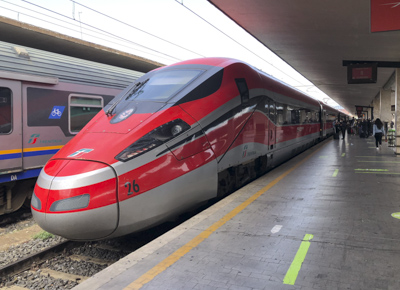 We both had window seats and it was a lovely calm ride through the Italian countryside. After we were underway, an attendant served cookies and bottles of mineral water. Onboard screens gave information about the stations and told us that Frecciarossa was speeding along at 248 km/h or 150mph!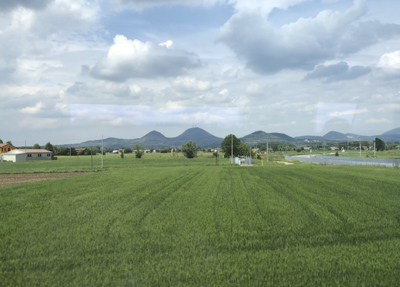 Two hours and fifteen minutes later, the train arrived at Venezia Santa Lucia terminal in the amazing city of Venice. The station was crowded with tourists, like us, carefully rolling our suitcases over bumpy cobblestones, out into the bright sunshine. There were several vaporetto (Venetian water bus/boat) choices in front of the terminal. As we were looking at a large confusing transportation map, a workman directed us to the vaporetto which stopped at Piazza San Marco/San Zaccaria near our hotel.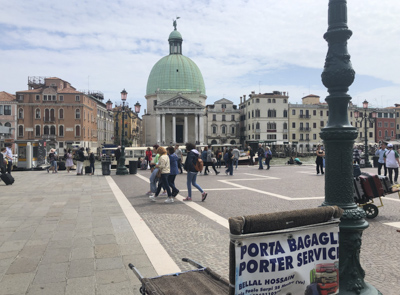 This was our third time visiting Venice. Our last trip to the incredibly beautiful city was in 2011 – seemed like a lifetime ago – and we arrived by boat from the airport. That's a much better way to get to the heart of Venice. There is nothing like a water-taxi threading through the channel markers across the smooth blue lagoon with seagulls soaring overhead and salt-air wind blowing on your face. The boat sweeps past small islands as the towers of magical Venice come into view and grow larger as you approach.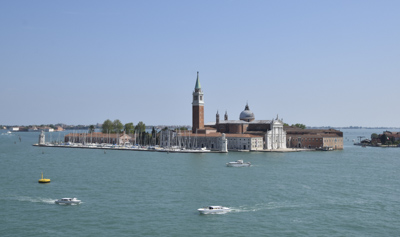 We had made reservations to stay at the Hotel Danieli on the Grand Canal near San Marco because it was our 20th wedding anniversary and after Covid-confinement at home for two years, we felt we deserved a treat and a really good celebration! The Danieli is comprised of three palazzos (palazzi?) the oldest of which was built in the 14th century. The interior of the hotel was very elegant and impressive. My photos really do not capture the palatial grandeur illuminated by Murano glass chandeliers: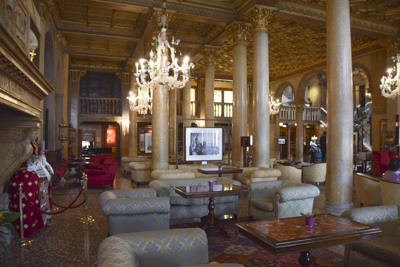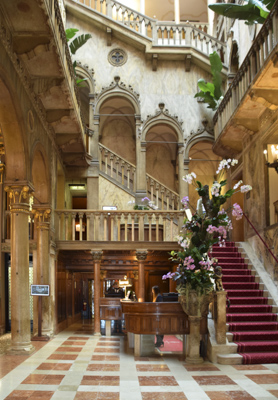 The Hotel Danieli is centrally located next-door to the Doge's Palace, so was perfect for us to sightsee and take vaporettos everywhere. Also, there's a rooftop restaurant/bar with a magnificent view: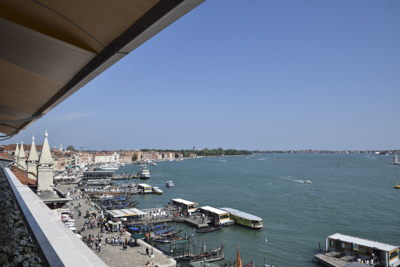 There aren't enough superlatives to describe Venice and if I took a gazillion pictures, I could never capture the mood or spirit of the city. You just have to go and experience magical enchanting Venice!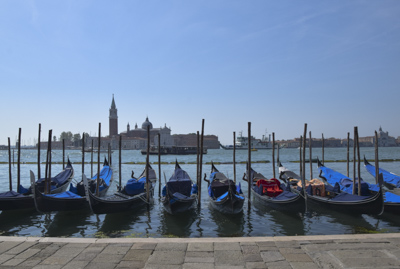 "Water, water everywhere….." Cars and motorized vehicles are not allowed in Venice and certainly aren't practical in the narrow spaces between buildings and across the hundreds of bridges connecting all the small islands that make up the city. In order to get anywhere, everyone has to take boats. There are all different sizes and kinds of boats from gondolas to fire & ambulances to commercial ships.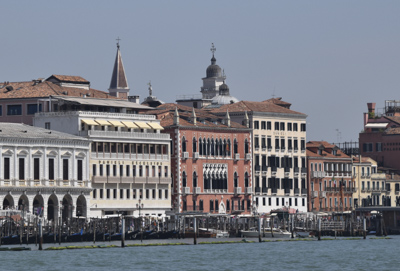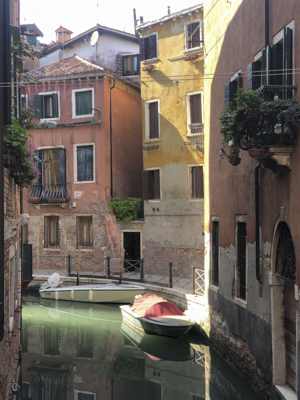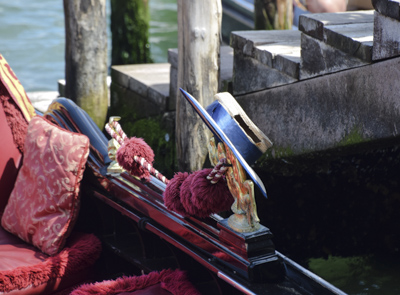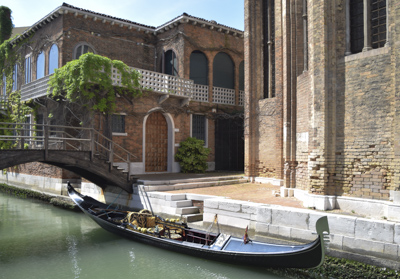 Just a few words about Gondoliers: Since our last trip to Venice 11 years ago, there seemed to be many more gondolas plying the canals and therefore many more Gondoliers hanging about at formal "Gondola stations" waiting to take tourists out for their 80-Euro 30-minute rides on the canals. I noticed that many of the stripe-shirted Gondoliers were looking at their smart-phones while they waited: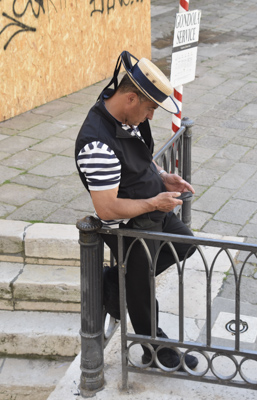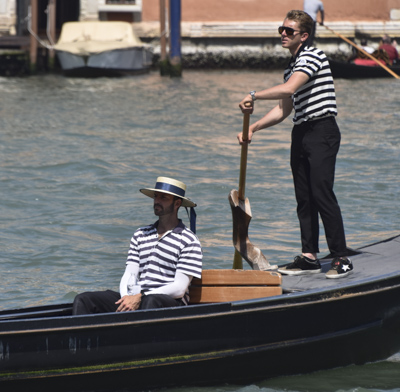 Characters: Venice is full of interesting locals and visitors. There are gondoliers and Venetians hurrying about and a slew of foreign tourists. Photos below: on the left are two women in costumes during a break from filming a new movie. On the right was a young woman playing a song for tips using tuned water glasses. She was really good!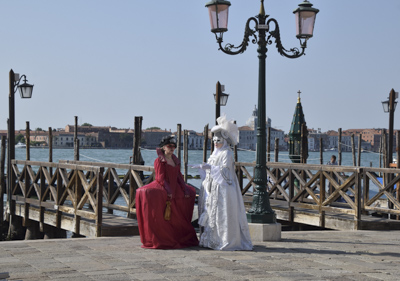 We saw fresh fruits and vegetables for sale on open-air boats along some canals. There's also a large produce market and the famous fish market on the the other side of the Rialto Bridge. Outdoor markets are always great fun to explore, watch the vendors, and see what fresh foods are available.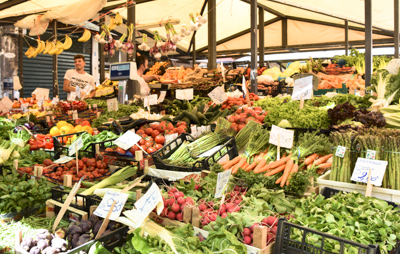 We had pre-purchased timed-tickets for the Doge's Palace and later for the Basilica San Marco, so we avoided long lines. The interior of the church is lined with gold mosaic pieces and is truly magnificent.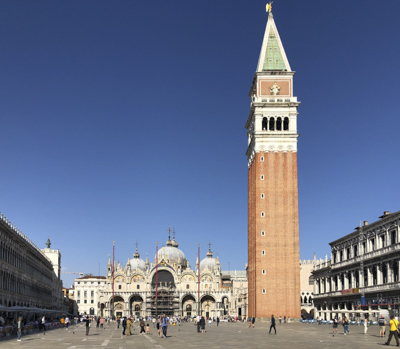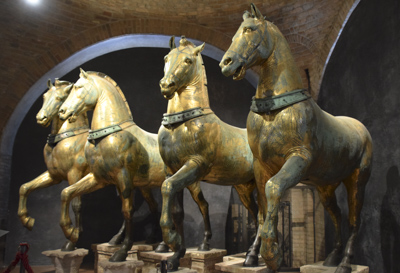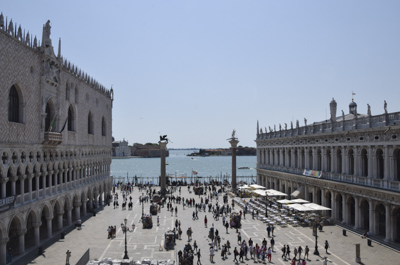 We had fun finding small ancient wine bars that have been selling cicchetti for hundreds of years. The tasty morsels are fish, hams, or fish paste on fresh circles of Italian bread – similar to tapas in Spain.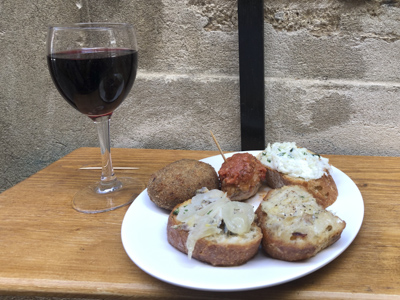 A big part of the fun of Venice is riding the boats everywhere. The city is built on more than 100 islands and everyone has to get everywhere by boat! Venetians have their own little power boats, but the rest of us rely on "public transportation" aka vaporettos and traghettos and water taxis and ferries. We bought weekly passes to ride vaporettos. A one-way traghetto ride was 2-euros on this trip.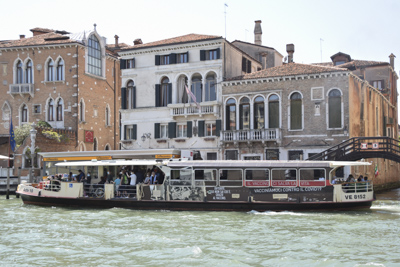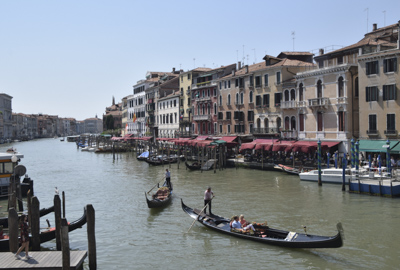 A traveler can't go to Italy without talking about food. In one simple word, Italian food is "delizioso." It's really impossible to have a bad meal in Italy because everything is made fresh.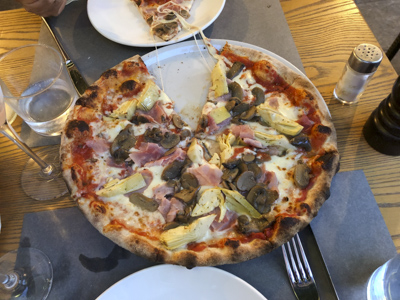 A week in Venice flies by, and after walking through narrow alleyways, crossing endless little bridges, riding on vaporettos and traghettos, resting at cafes to have a bottle of water or a small spritz, and eating sumptuous meals at outdoor cafes, it was time to catch a plane to go home.
As I wrote before, the best way to arrive in Venice is by boat. Well, the best way to leave my favorite city is also by boat! A water taxi picked us up at the hotel. First, it slowly moved through the narrow canals to get to the northern part of Venice. When we reached open waters, the driver 'stepped on the gas' and we sped across the lagoon creating a huge wake behind us, all the way to the airport!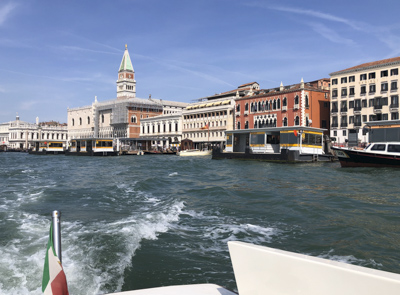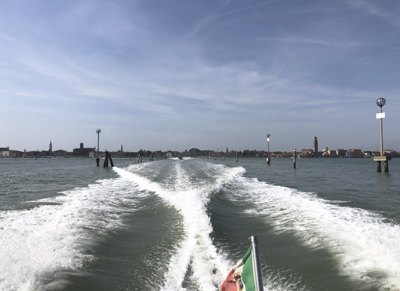 Arrivederci Venezia…. Arrivederci Italia….