Sunday May 21, 2023: Travel day from Amsterdam to Xativa Spain via Valencia. My granddaughter, Hannah, has been living in Xativa for the last year and working as an English teaching assistant in a rural high school. So, I was long overdue for a visit!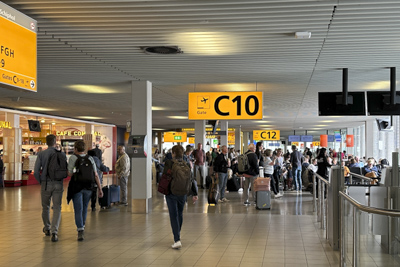 One of the best innovations in Europe now are the low-cost budget airline companies that connect many European cities. I made a reservation on Transavia Airlines for the 2 1/2 hour flight from Amsterdam to Valencia, Spain. It was an easy and pleasant no-frills flight.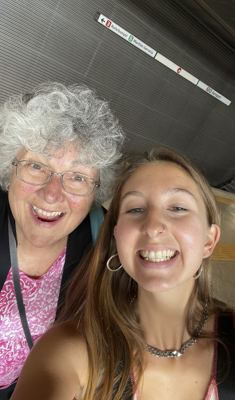 Thankfully, Hannah met me at Valencia airport and helped get me and my suitcase from the airport through two train systems to the city of Xativa.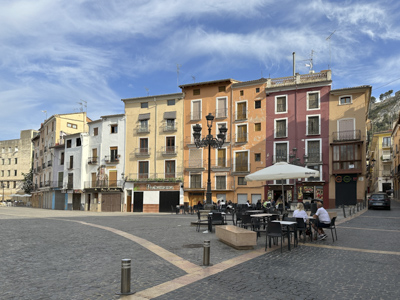 Xativa is a medieval city which is famous for its mountain-top twin fortifications and defensive walls simply called "Xativa Castle."
It was a long walk from the train station through Xativa to the Montsant Hotel, which is located outside the city on the hill leading up to the Castle.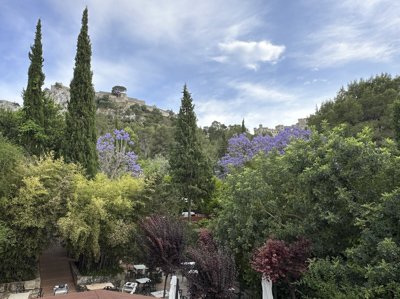 Montsant Hotel was built on the bones of a 14th century convent and the old stone buildings were impressive. The magnificent gardens had an amazing assortment of beautiful flowering plants and trees.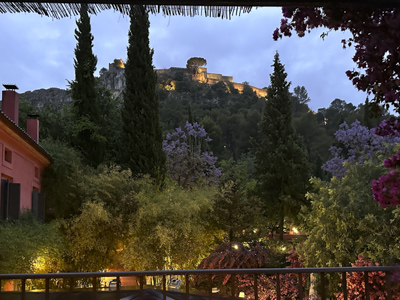 It rarely rains in Spain, however this was an unusually rainy week. Hannah's school closed because of the rain! So, we decided to brave the elements and wander up to experience the famous Xativa Castle.
We had so much fun hiking up the steep hill and exploring the medieval castle in the pouring rain! And we got soaking wet!!!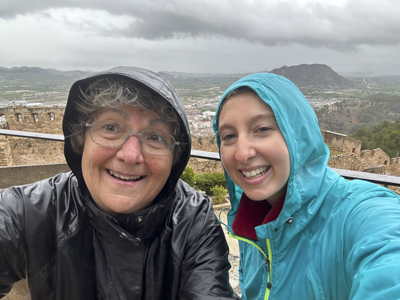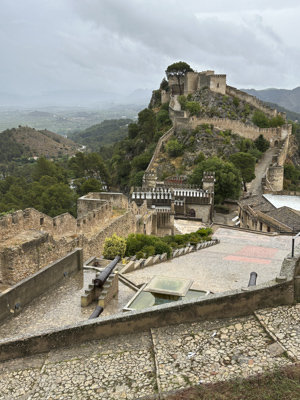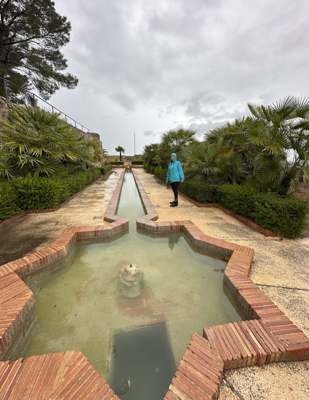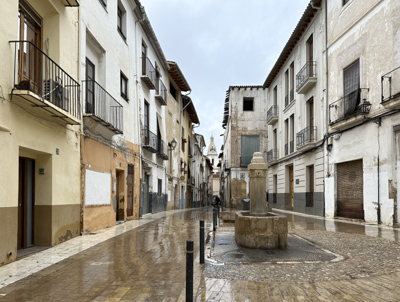 There was so much rain this week, the people of Xativa stayed indoors. Han and I had a wonderful dinner of local speciality foods at a restaurant called "Grandma's House" – Casa la Abuela.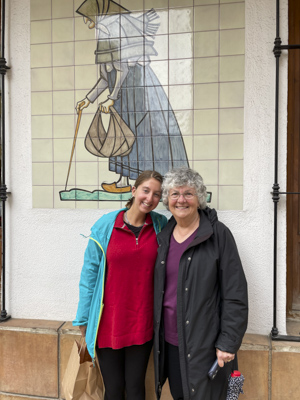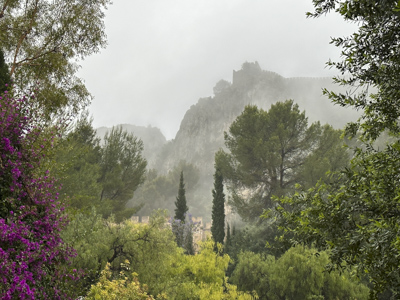 Han and I also took the train into Valencia, a 45 minute ride, to see the sights. Valencia is a beautiful city with amazing architecture, museums, markets, great restaurants, wonderful parks and gardens, and of course old historic churches.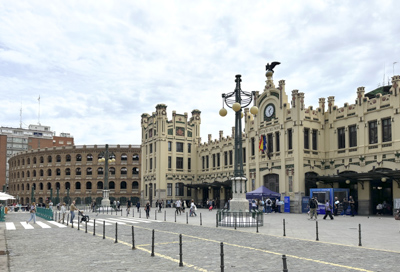 Of course, we had to have real Paella Valenciana – the authentic paella! No seafood; cooked with chicken, green beans, rabbit, snails, pork, and a special local short-grain rice. Very delicious at Palace Fesol Restaurant.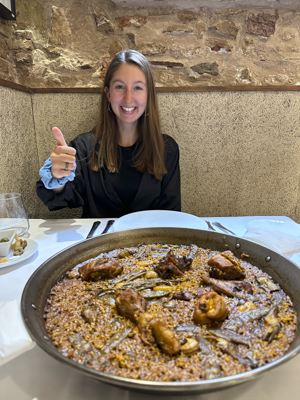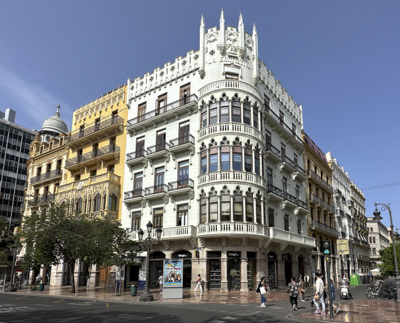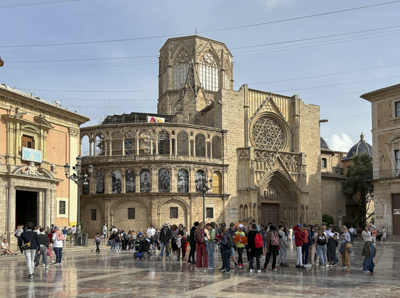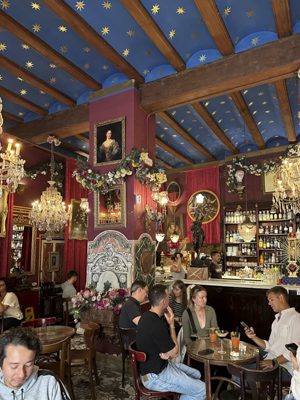 No trip to this wonderful city is complete without Agua de Valencia! We went to the place where the tasty refreshing drink is the speciality of the house: Cafe de las Horas.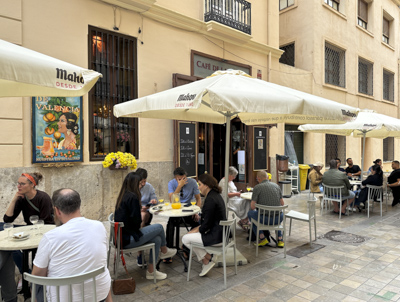 On my last day in Valencia, I walked across the city, along the urban Jardin del Turia, to the amazing City of Arts and Sciences.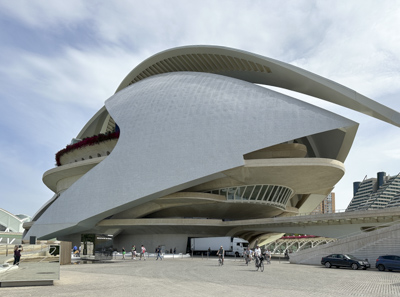 Ciutat de les Arts i les Ciencies cultural complex is the most important modern tourist destination in the city of Valencia. It is located at the southern end of the picturesque Garden of the Turia River.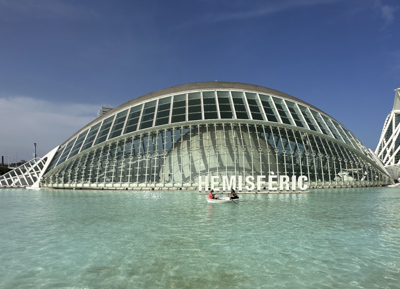 On my last night in Valencia, Han and I had a wonderful dinner at a little sea-food place called Aladroc – Taberna de Peix located in the trendy Russafa neighborhood. The octopus and sardines were delicious!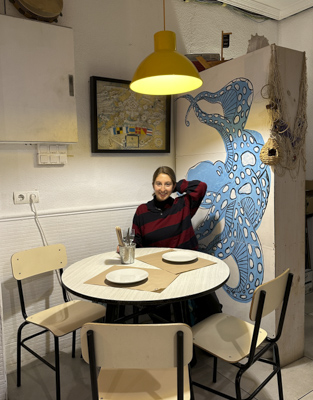 I had a fabulous time with Han in Xativa and Valencia and I am looking forward to returning someday very soon.