Monday, October 9th was a school holiday: Indigenous People's/Columbus Day – Jeff and I joined my son and granddaughter to find a tasty apple cider to promote in his restaurant. We live in the Hudson River Valley and the region is well known for its apple orchards.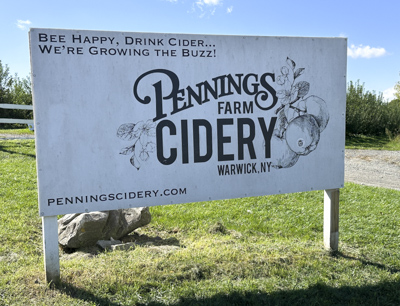 Pennings Farm in Warwick, NY had a lovely hillside location surrounded by acres of fruit trees. It was a family-friendly establishment with pick-your-own apples and pumpkins. Two food trucks were parked outside the cidery and there were picnic tables and places for families to relax and eat outdoors.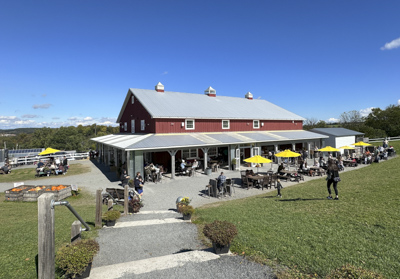 People were lined up to purchase individual glasses, cans, or "Flights" of cider for tasting. A Flight was a selection of six small glasses of sweet or dry ciders for tasting. We obtained extra glasses to share all the varieties.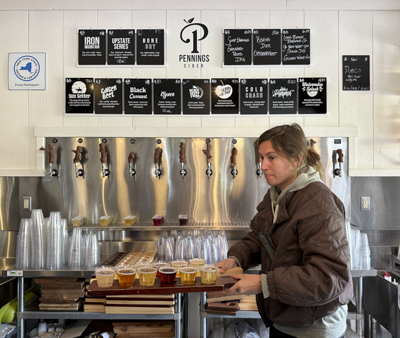 We ordered one Flight each of sweet and dry cider so we could try all flavors Jennings Farm had to offer. At $23 per Flight, we decided that Jennings Farm had a good thing going. We were curious about the Burrata Cheese Fries with Pesto at $18, so we also shared one of those. ($17 for a large pretzel!)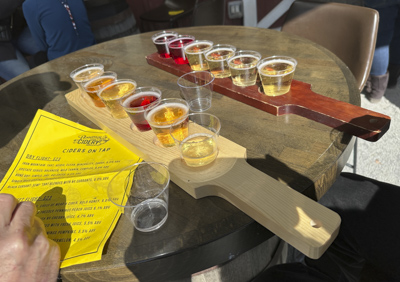 The consensus was that there was very little to distinguish the varieties of cider despite the interesting names, for example: ginger and beet juice. The tasters found the ciders "boring" with no apple taste.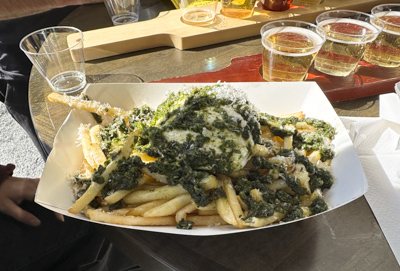 We left Pennings Orchard and drove along the back country roads of Orange County to our next destination: Applewood Winery and Cidery. This was a much smaller operation and we were told that the apple orchard nearby was a separate business.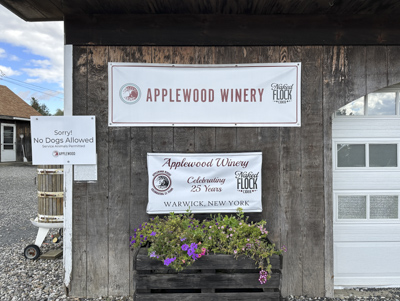 There was some outdoor seating which was filled with a group of seniors who were bussed from somewhere for a day's outing. The indoor space was a converted garage set up with rows of tables.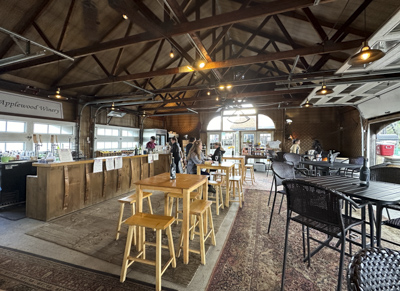 The menu featured Flights of regional red and white wines and the people at the tables around us were sampling those. Ciders were listed at the bottom of the menu – a Flight of 4 glasses for $12.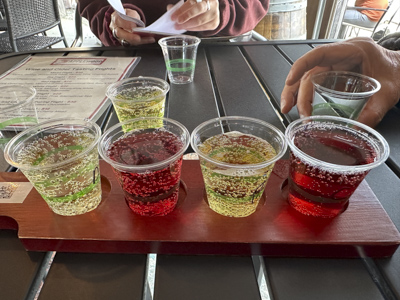 Cans of the house brand of hard apple cider, Naked Flock, were available on a table near the door. Those also boasted names such as "lemon ginger" and "pumpkin spice." But No pure "apple."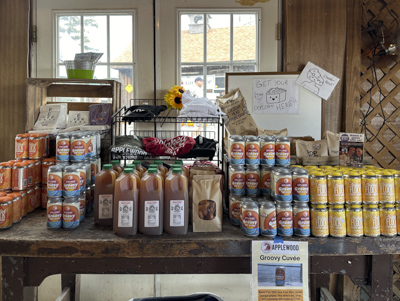 The consensus was that all the ciders tasted like wine, with appropriate names like Rosé, but none of them tasted like apples of any variety. However, we enjoyed a very tasty chili-cheese nacho boat for $9.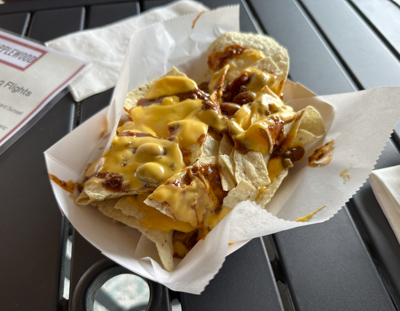 We moved on to our next orchard near Goshen, NY. I was the 'designated driver' and I throughly enjoyed seeing the beautiful rolling hills and fertile farmlands of this region of New York State. I had forgotten how gorgeous our State is, especially at this time of year with the colorful leaves and beautiful trees.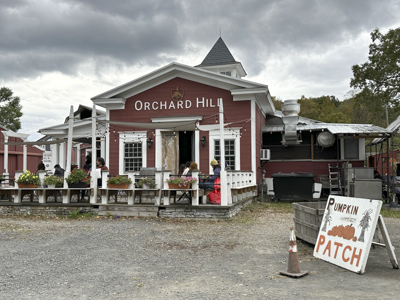 Orchard Hill Cider Mill and Tap Room seemed promising for an "Apple" cider. Their website referenced European cider and stated that their cider was built on the legacy of the famous Soons Orchard. I remember driving 'upstate' during the 1960s and stopping at Soons Orchard for apples and cider!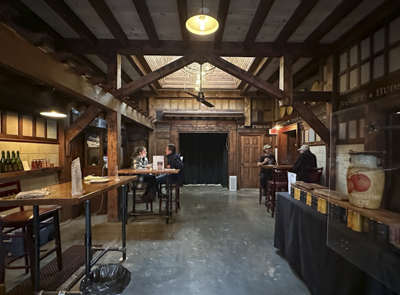 The seating area was dark, cozy, quiet, and inviting. The tasting room felt "adults only" and none of the families with young kids who had come to pick apples & pumpkins and were noisily running around outside, dared to invade the tranquility here. We ordered two Flights of 5 samples to share – $12 each.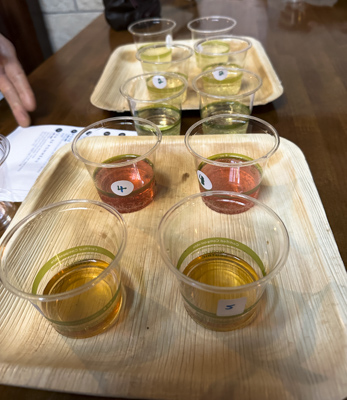 The tasters all agreed that these ciders had more distinctive flavors and were the best of all the samples today. We briefly met the cider creator, a cheerful young man. A worker explained the different varieties to us and recommended two additional ciders. We purchased a couple of cans to take home.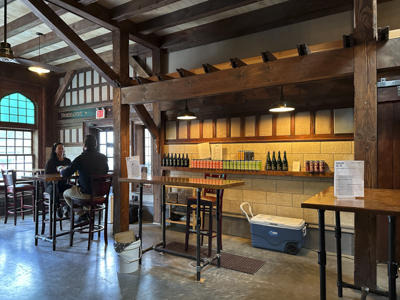 We had a wonderful fun day driving around Orange County in the Hudson River Valley and enjoyed the beautiful fall countryside. We visited three very different apple orchard/cider mills. We learned that the makers of hard cider are trying to make their products taste more like wine, probably to satisfy today's youthful palates.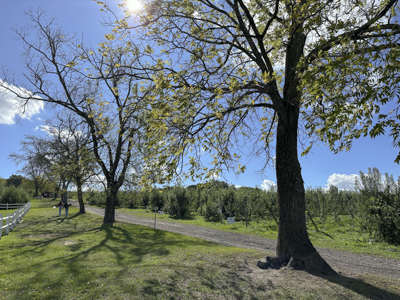 We hope cider-makers will return to a cider that tastes like apples perhaps similar to the wonderful French ciders of Brittany and Normandy. Our search for really good New York apple-tasting apple cider will continue. However like life in general: "It's the journey, not the destination that matters."